Find the part you need below by Lockset/Manufacturer: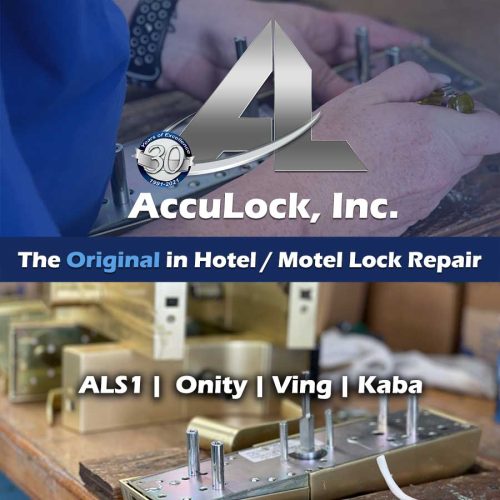 AccuLock, Inc. repairs the following locks:
ALS1 – AccuLock System One
Kaba Ilco Unican System 700II, 710, 710II, 720, 720II, 760, 770, 790(RFID)
Onity – (All Types)
Ving — 1050, 2100, signature series
We do not work on Saflok systems at this time.
If your lock is on this list, you can get our special pricing on repairs!
We repair encoders!
We also program Onity HT-22 & HT-20 encoders!
We will need a high level password for Onity and Ving encoders, and GMA card for Kaba 780 or G4.
**Your guestroom lock repairs can cost less, but will never cost more than $85.00!
When sending your locks, use the following address:

AccuLock, Inc.
ATTN: Repair Department
9901 S. Interstate Highway 35 W.
Grandview, TX. 76050
Important Information:

We HIGHLY suggest that you send your locks to us in any form that requires a signature and tracking number.
We recommend UPS, but however they are sent, please make sure we have to sign for them. And always put a business card in the box in case the label gets damaged.
All of our repairs are guaranteed for 90 days.
If you have questions, call us: 1-866-222-8562
All of our repairs are accomplished with used parts. If there is a problem with the repair, we will fix the lock for FREE and even pay the shipping BOTH WAYS! We are serious about doing your repair properly the first time!
Want to repair the lock yourself ? We can help with any PARTS you may need. All of our used parts carry the same warranty as factory new parts; 90 days.
REPAIR ESTIMATES:
Any material processed by AccuLock, Inc. for repair is subject to a $25 fee per item if property declines completion of repairs. AccuLock, Inc. reserves the right to assess this fee in the event repairs cannot be completed.
SHIPPING COSTS AND FEES:
Property is responsible for all shipping costs. Expedited repairs may incur additional costs. Designated shipping method in no way guarantees the completion of repairs on the day of delivery to AccuLock, Inc. and denotes the delivery speed only after completion of repairs.
WARRANTY STATEMENT:
AccuLock Inc. warranties its products to be free from defects in material and workmanship under normal use and service for a period of no-less than 90 days after delivery. Warranty shall not apply to any products that have been subject to irregular use, including but not limited to misuse, neglect, accident, power surge, electrical overload, or uses in violation of instructions furnished by company or manufacturer. Warranty does not extend to batteries required by any product supplied by AccuLock, Inc. or damages caused by or incurred by batteries used at property. Warranty includes bench repairs by AccuLock, Inc. service department only and does not extend to units that have been repaired, altered, or otherwise modified after original purchase date. AccuLock, Inc. is not responsible for any costs incurred involving on-site service calls. Proof-of-purchase required for warranty redemption.
We have some offline literature we can email or fax which may help if you are having issues.
We also provide FREE tech support during regular business hours.
**The $85.00 guarantee is for used parts only. If we have to use new parts, the pricing will have to be adjusted.